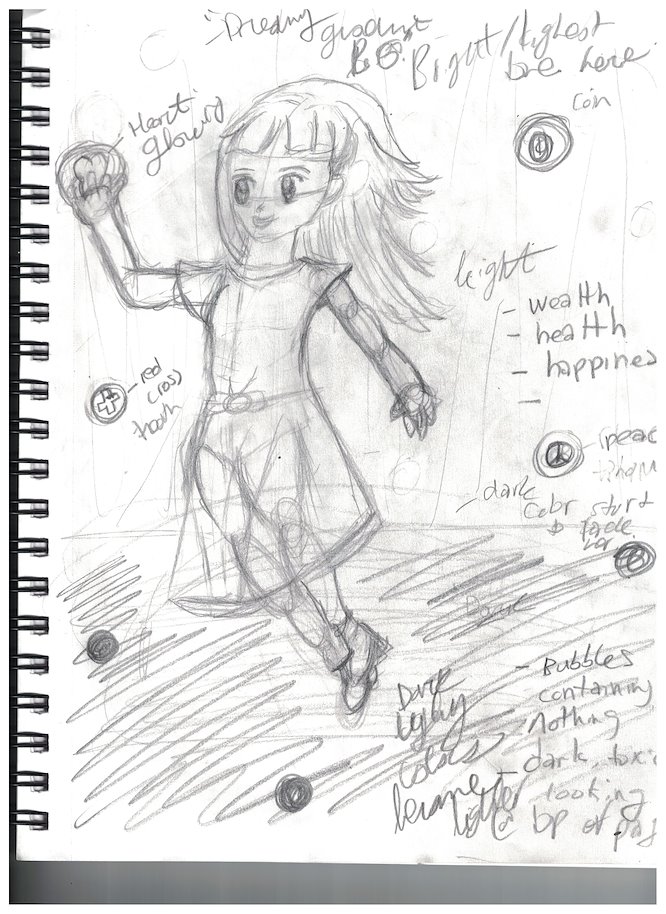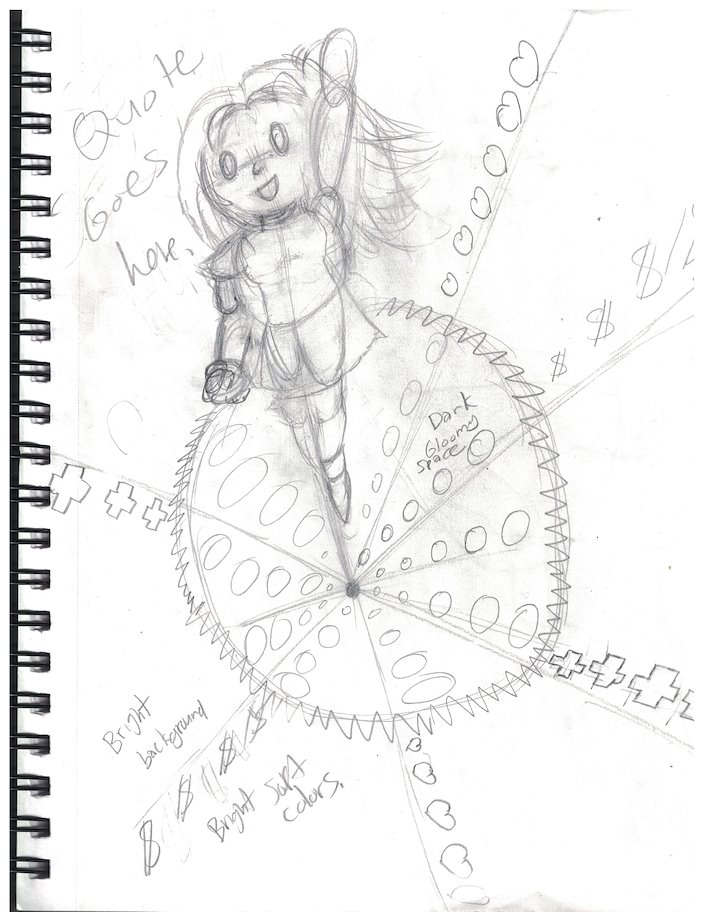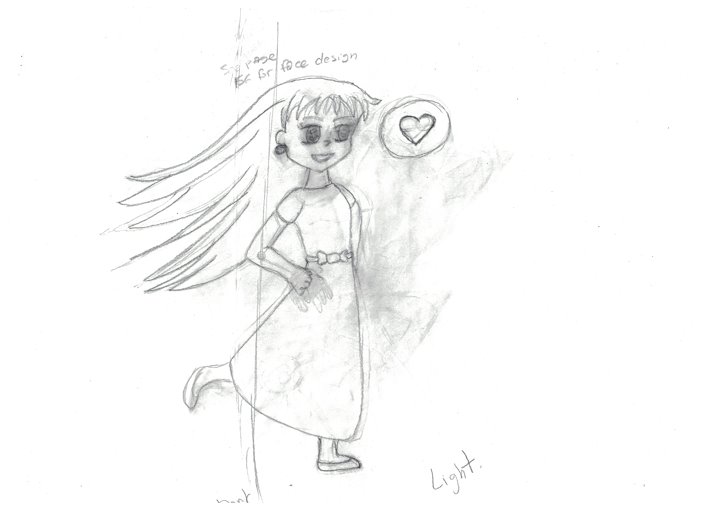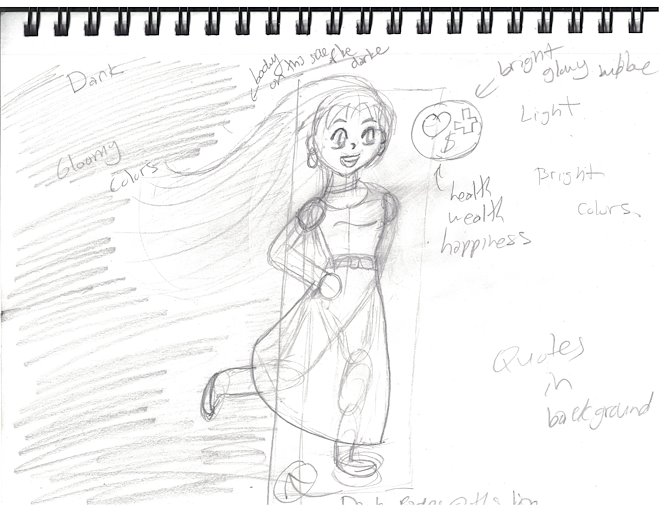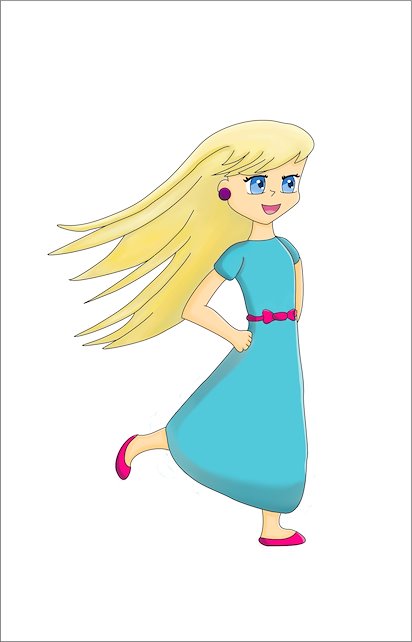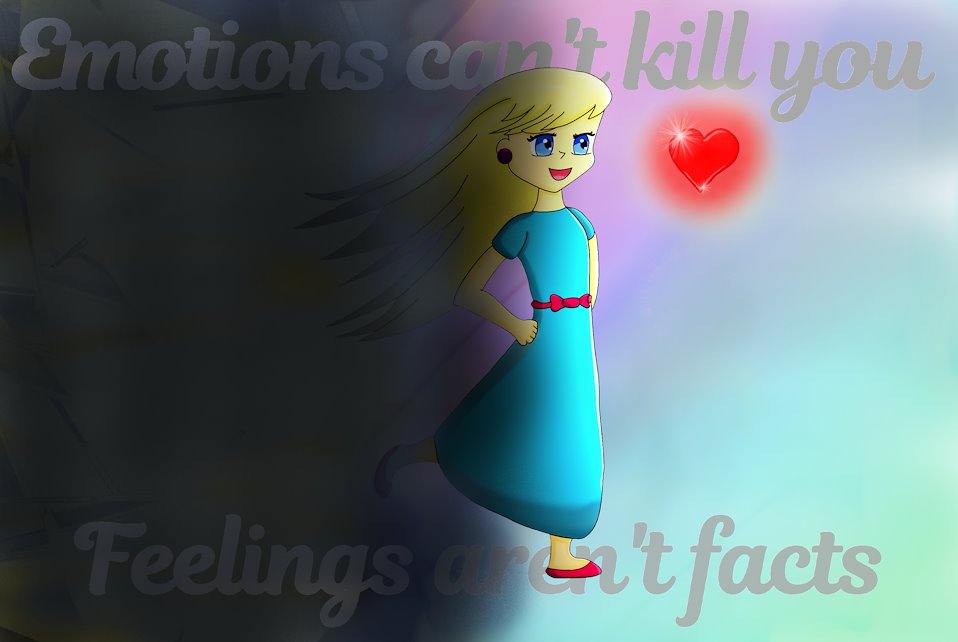 I created the image "Feelings" (found in the Traditional and Digital Artwork page) as a request for a friend of mine. Her original request was to make a digital painting of a girl with long hair and wearing a dress to look like she is coming into the light from the darkness. She also wanted two quotes – "Emotions can't kill you" and "Feelings aren't facts" and bubbles containing symbols relating to emotional well-being. I really liked her idea and I took her specifications and drew three concept sketches. The first concept depicted the girl coming up from the darkness, the second one was her flying away from the darkness towards the light, and the third one was her walking from the darkness into the light. My friend preferred the third one and requested for more changes to the character's hairstyle and to remove all of the bubbles expect for one.
I originally intended to draw numerous bubbles with different symbols to represent wealth, health, and happiness. The "$" was wealth, the cross was health, and the heart was happiness. My friend only wanted the heart, so I kept it and I made sure to keep it large and one of the focal points in the artwork. Since she wanted this change it got me thinking of the classic quote "less is more". I took this idea and decided to simplify the rest of my concept to make sure the message of the piece was going to resonate with viewers. Throughout the changes I was making in the design process I asked my friend for feedback to make sure the artwork met her specifications.
The last image before the finalization had both of the quotes she originally requested. She suggested to remove the one on the top and replace it with the one on the bottom. I liked her idea as I believed it opened up the artwork more and related to my thoughts of using fewer elements to better present the message of the artwork.
I enjoyed working with a friend to get their ideas and vision into a piece of artwork. I also enjoyed the subject matter as it was something I have never explored in my art before. In addition I took this as an opportunity to experiment with different brush settings, lighting effects, and layer settings to achieve the mood of the piece. In the dark area of the digital painting I experimented with particle brushes, air brushes, and gradients and in the light area I experiment with multi-colored lighting effects over a white painted background. Overall I was very satisfied with how this digital painting turned out and I was glad my friend liked it too.