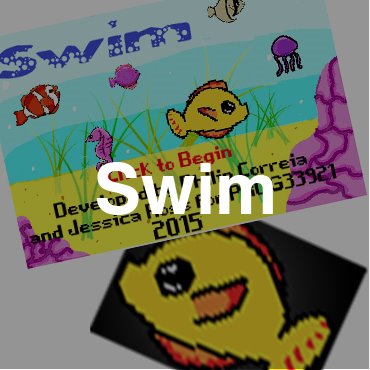 Home Screen | Adobe Photoshop
Sprite sheet for the main character's movements | Adobe Photoshop
Animation demonstrating the movements from the main character sprite sheet | Adobe Photoshop
Sprite sheet for the main character when the game is over | Adobe Photoshop
Animation demonstrating the movements from the game over sprite sheet | Adobe Photoshop
Game over banner image | Adobe Photoshop
Exit button | Adobe Photoshop
Sprite sheet for an enemy character | Adobe Photoshop
Animation demonstrating the movements from the enemy character sprite sheet | Adobe Photoshop
Sprite sheet for an enemy character | Adobe Photoshop
Animation demonstrating the movements from the enemy character sprite sheet | Adobe Photoshop
Sprite sheet for an enemy character | Adobe Photoshop
Animation demonstrating the movements from the enemy sprite sheet | Adobe Photoshop
Sprite sheet for an enemy character | Adobe Photoshop
Sprite sheet for an enemy character | Adobe Photoshop
School Project: Swim Game
The Swim Game was a joint project with Philip Correia who is credited in the opening screenshot. This game was a requirement for the game development principles course at Sherian College. Both of us collaborated on the assignment and came up with the idea, artistic choices, coding, and debugging. Although we shared equal responsibility for these items I designed the sprite sheets and all of the other necessary graphics.
All of the graphics and sprite sheets were designed in Adobe Photoshop and the game was coded using Visual Studio and C++. Sound effects were found from websites providing public domain material and edited in Audacity to achieve a distinct 1980s sound. The game's design was based on 1980s style graphics as it was a favorite with us and received much approval from the course instructor. We also discovered the 1980s use of pixel art is still used and best suited the theme of our game.
The user controls the yellow fish in the game and the goal is to avoid as many as the other fish as possible. When each fish is successfully avoided as it swims across the screen the user gains a point and if the user accidentally hits another fish it is game over and the score keeper resets.