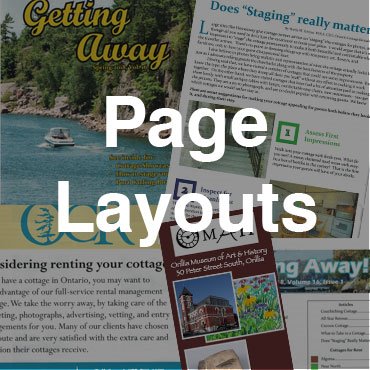 Adobe Photoshop and Adobe InDesign
Adobe InDesign
Adobe InDesign
Adobe InDesign
Adobe InDesign
Adobe InDesign
Adobe InDesign
Adobe Illustrator
Adobe Illustrator
Work Projects: Page Layouts
This gallery contains page layouts I have created for past occupations and for my own personal projects.
The first portion of the gallery contains page layouts from the Getting Away cottage rental directory. I co-produced this print publication with another staff member when I was employed as a marketing specialist with Ontario Cottage Rentals Inc. Getting Away includes cottage rental listings, articles, and advertisements. I was responsible for creating the layouts for the articles, advertisements, table of contents, and the cover page. In addition I wrote the introduction to the directory which is found on the page containing the table of contents.
The second portion of the gallery consists of a rack card I created while I was volunteering with the Orillia Museum of Art and History (OMAH). I was asked to create a new rack card for the information board and to distribute to other information booths. Unfortunately this project did not receive funding and it was cancelled, however the layout is based on feedback provided to me by the staff with the intention of being printed.